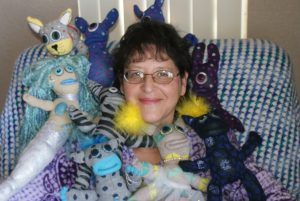 Welcome to my online store! I'm the Odd Grandma who crafts creatures based on creatures my grandkids tell me about in their crazy stories. I'm told these poor creature's homeland was invaded by slime monsters, and now seek refuge on Earth. I'm helping these creatures by donating a portion of our profits to Habitat Rescues, giving them a new place to live.
I have been crafting sock creatures for 13 years, and sculpted clay dragons for over fifteen years, and painting and creating art pretty much my whole life. I love attending craft fairs, and being inspired by fantasy and art. I hail from the beautiful Land of Enchantment, New Mexico, rich in art and culture.
My daughters are helping me to start my business online. My daughter Erin runs a web design company, Blue Skies Design + Consulting, and is my web designer and marketer. My daughter Pam Kuntz is a children's book author and assists me in running the craft shows. They have been drawing and writing stories since grade school. They were working on a children's book together, but creative differences caused the project to halt for a short period. Erin restarted a comic project for my creatures, They Ate My Socks, featured on the home page.
Our goal is to encourage not only kids but people of all ages to create rather than consume. We hope that you will be inspired to draw and write your own comics about their creatures, and build a community of people who appreciate odd, crafted creatures and stories.